Welcome to the Young Video Game Designer Institute! This camp is being offered for students entering grades 6, 7, and 8. Over the next week, we are going to be working with a program called Gamestar Mechanic to learn the fundamental elements of game design and create our own games that will be shared and playtested by our other game designers.
I'd like to start the week off by introducing myself. My name is Cassie, and I'll be leading this camp. I started this camp last summer alongside Thor. You can see a picture of us together below, and he may pop in on some of our meetings over the week! I love to play video games in my free time. I might be dating myself a little here, but my obsession started when I was gifted a Gameboy Color for my fifth birthday. I got hooked on Pokemon Silver, and gaming has been a lifelong hobby for me ever since then. For those of you who live in Oneonta, you'll see me at Oneonta Middle School, where I'll be teaching 7th Grade English Language Arts starting this September.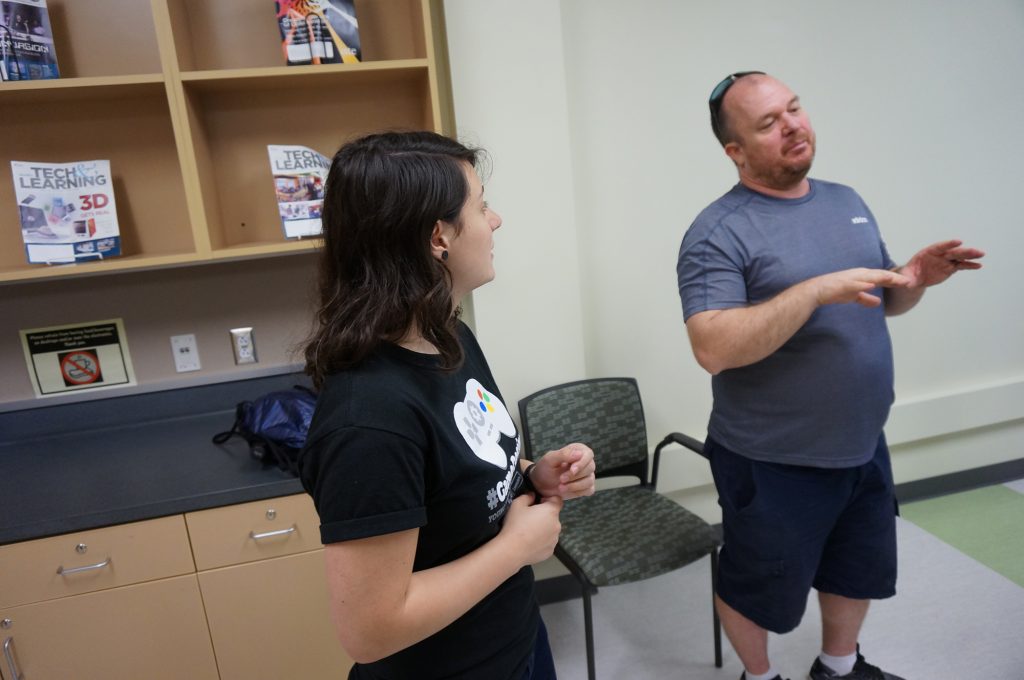 As I said, we will primarily be working with Gamestar Mechanic this week. On Monday, we'll get you registered and set up on there. This website will be used to share resources and a list of goals for you to complete every day. Think of it like Google Classroom or Schoology!
Throughout the week, we will also have video meetings where we will talk about the games we've been designing, do some activities, and play each other's games! All of this will happen on our Discord server. You'll find me on there with the username Cassie.
In order to get started on Discord, you will need an email address. After that, watch the video below for help using Discord and accessing our server.
I've also created a video to help you get registered on Gamestar Mechanic.
Finally, here's a brief summary of the meetings we'll have over the week. There will be independent tasks for you to do around this schedule, but we'll use this time to discuss, share, and sort through any difficulties we have over the week.
Monday, July 6
Tuesday, July 7
Wednesday, July 8
Thursday, July 9
Friday, July 10
12:00PM – 1:00PM: Meet & Greet, Icebreakers

2:00PM – 3:00PM: Circle Up
12:00PM – 1:00PM: Optional Office Hours

2:00PM – 3:00PM: Circle Up
12:00PM – 1:00PM: Morning Meeting

1:00PM – 2:00PM: Optional Office Hours
12:00PM – 1:00PM: Morning Meeting

1:00PM – 2:00PM: Optional Office Hours
1:00PM – 3:00PM: Author's Chair
I'm looking forward to working with you all over the next week. Happy game designing!